DESIGN INSPIRATION – THE FLOWERS OF COTTON TEXTILE COLLECTION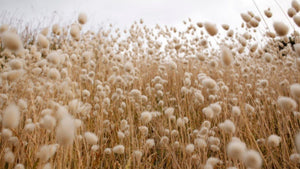 DESIGN INSPIRATION – THE FLOWERS OF COTTON TEXTILE COLLECTION
Our Flowers of Cotton Collection of Spring textiles is all about color and airiness. Inspired by rural India's open landscape punctuated with blossoming cotton fields and simple mud homes in terracotta, it carries a bit of what India looks and feels like around this time of the year.
Made from incredibly light cotton in creamy hues accented with hints of blush, terracotta and soft earth tones, it brings together organic textures and colors naturally present in India's indigenous flora.
The hot and humid tropical climate for most part of the year has made natural cooling and ventilation through perforation a central part of design in India's ancient as well as modern architecture. Inspired by the genius yet simple tricks, we incorporated the lightly perforated, "Jaali" weave in our textiles too. Most of all, we couldn't help but fall in love with the diffused daylight that gently streams in through the fabric creating such a relaxed vibe.
Masterfully bringing air, light and privacy into any space, the fabric by the yard is ideal for window shades in sun-rooms or living rooms, and even makes the coziest of throw pillows, of course!
We're sharing the mood boards from our design inspiration behind this handwoven home decor collection. You can also find the full Flowers of Cotton Textile Collection here.
Pairing natural cream and ivory with soft earth tones and terracotta hues. Finished with fluffy cotton tassels in warm terracotta hues for a pop of color inspired by India's landscape.
Light neutrals and organic textures combined with simple geometric lines and ticking stripes for a modern, airy and relaxed feel.
The open, "Jaali" weave in a minimal color palette for a laid-back, tropical vibe. Nothing screams light and airy the way this does!!
Image sources: LULUANDGEORGIA, INTHEFROW, BLOGLOVIN, TROPICO, MAGNOLIAROUGE, THESAVVYHEART, SFGIRLBYBAY, THEULTRALINX, ONEKINGDESIGN, JILLMALEK, ANDGATHERER, STYLIZIMO 
1 Response
Leave a comment
Comments will be approved before showing up.